About us
---
Parclick is the main point of reference for online parking reservations in Europe. Besides guaranteeing your space, we do so at an unbeatable price, with discounts of up to 70% of the official price.
In the beginning Parclick was an MBA project, but in 2011, what once started as an almost fictitious idea evolved into a real company. Since then we have adjusted our business model to offer our clients the best products. Not only do we give our customers access to great discounts on car parks, but we also help car parks yield the maximum profits of their infrastructure without any risks.
Madrid functions as the hub of our operations, but we are moving across the whole of Europe.
We rely on an international team that helps us both with customer service and to be innovative.
Management Team
---
Luis, with more than 14 years of experience specialising in operations and logistics, has worked with companies such as HP and British American Tobacco in the supply chain field. At Parclick, he leads the whole team alongside planning all strategic and financial matters. He graduated as an Industrial Engineer from the Andrés Bello Catholic University, has a Master's Degree in Logistics and Supply Chains from the Polytechnic University of Catalunya, and also an MBA from IESE Business School.
Iván has more than 15 years of experience successfully leading sales teams and developing businesses. Before Parclick, Iván had taken charge of several positions in the sales departments of multinational technology companies, such as Informatica Corp. and SAS Institute. At Parclick Iván is responsible for establishing and maintaining relationships with car park operators, as well as planning market penetration strategies. He graduated from the Madrid Institute of Technology in Computational Sciences and has an MBA Degree from IESE Business School.
Eduardo has more than 10 years of experience in Marketing and Advertising. He has worked at companies such as Etueri.com and JWT, where he helped lead product strategy for companies including Ford, Wendy's and J&J. He has a degree in Social Communication from Andrés Bello Catholic University, a master's degree in Advertising Creation from Falmouth University and an MBA from the IE Business School. At Parclick, Eduardo is responsible for the product department, focusing on the maintenance and implementation of new functionalities, and working as a liaison between different company departments.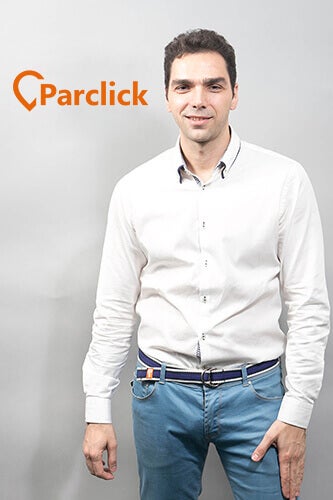 Marcos, with more than 15 years of experience in Online Marketing, has worked at companies such as Leroy Merlin, paginasamarillas and eltenedor to develop web/mobile products, and customer communication, acquisition and loyalty. His main challenges at Parclick consist of increasing brand awareness and improving customer purchase frequency. Marcos is a Psychologist and has a master's degree from Alcalá University.
Julien is the youngest on the management team. With a degree from the EMLyon business school, he has worked in France, Mexico, Portugal and Spain over the last 5 years, optimizing the finances of innovative tech firms such as Amaris and Valeo. Since 2015, he has managed Parclick's financial department: leading sustainable business growth and optimizing resources to make the dream possible.
Enrique has developed his professional career in Spain and Mexico. He has accumulated over 12 years of experience as a developer and director of technology at companies such as Bodaclick (CTO), which was listed on the MAB. At Parclick, he leads the technology department, developing and implementing technical strategy to improve and evolve the final product. Enrique is a computer engineer and in his free time, he enjoys sports and spending time with his family.
Cookies policy
---
Use of Cookies and Web Bugs by Parclick
PARCLICK's website uses "Cookies" and other similar mechanisms (hereinafter, Cookies). Cookies are files sent to a browser by a web server to record the User's activities in a particular site or all sites, apps and / or Web services of PARCLICK (hereinafter the Services). The primary purpose of cookies is to provide the User with faster access to the selected services. In addition, Cookies personalise the Services offered by PARCLICK's website, facilitating and giving each User information that might be of interest, corresponding to the use of the Services.
PARCLICK's website uses cookies to personalize and maximise ease of navigation for the User. Cookies are only associated with an anonymous User and its computer, and do not provide references that allow the User's personal data to be inferred. The User can configure their browser to notify and reject the installation of Cookies sent by PARCLICK's website without affecting the the User's ability to access the Contents. However, we note that in this case the performance of the Website may decrease.
Registered Users, who have signed up or signed in, will be able to benefit from more personalized and profile-oriented services, thanks to the combination of the data stored in cookies and personal data used at the time of registration. These Users expressly authorize such use of this information for these purposes, without prejudice to their right to refuse or disable the use of cookies.
Likewise, Parclick's Website will have knowledge of all PARCLICK Services requested by the Users, in a manner in which it will be able to facilitate or offer suitable information for the tastes and preferences of each User.
Parclick's website also uses Web Bugs, which are tiny and transparent images embedded in emails. When the User opens the email, this image is downloaded along with the other contents of the email and reveals whether a particular email has been opened or not, and the IP address from which it has been downloaded. PARCLICK's Website uses this information to obtain statistical data and perform analytical studies regarding the reception of these emails by Users.
Type, purpose and function of Cookies
The Cookies, depending on their permanence, may be divided into Session Cookies or permanent ones. Session Cookies expire when the User closes the browser. The latter expire when the purpose for which they serve is met (for example, to keep the User using PARCLICK's Services identified) or when they are manually deleted.
Additionally, in terms of their function, Cookies can be classified in the following manner:
PERFORMANCE COOKIES: This type of Cookie remembers your preferences for tools found in the Services, so you do not need to reconfigure this service each time you visit. For example, the products stored in the "shopping cart" are included in this type.

GEO-LOCATION COOKIES: These Cookies are used to find out which country you are in when a service is requested. This Cookie is completely anonymous and is only used to help guide the content to its location.

REGISTRATION COOKIES: Registration Cookies are generated once the User is registered or has recently opened session, and are used to identify them in the Services in order to maintain the User's identification, so that if a Service closes, the browser or the computer at another time or another day may re-enter that Service, and the User will continue to be identified, thus facilitating navigation without having to identify oneself again. This function can be deleted if the User selects the function "log out", so that this Cookie is eliminated and the next time the User enters the Service they will have to sign in to be identified.
Additionally, some Services may use connectors with social networks such as Facebook or Twitter. When the User is logged in to a Service with social network credentials, the User authorizes the social network to keep a persistent cookie that remembers their identity and guarantees access to the Services until it expires. The user can delete this Cookie and revoke access to social networking Services by updating their preferences in the specific social network.
ANALYTIC COOKIES: Each time a user visits a Service, a tool of an external provider (Google Analytics and others similar to it that may be added to this list in case they vary from the current ones) generates an analytic Cookie in the User's computer. This Cookie is only generated at the time of visit, and will aid in following visits to PARCLICK's Services to identify the visitor anonymously. The main objectives pursued are:

To allow anonymous identification of the browsing Users through the "Cookie" (it identifies browsers and devices, not people) and hence allows the approximate totalling of the number of visitors and its trend over time.

To anonymously identify the most visited and thus more attractive content to users.

To know if the User accessing is a new user or is revisiting.

Important: Unless the User decides to register for one of PARCLICK's Services, the "Cookie" will never be associated with any personal data that can identify them. Such Cookies will only be used for statistical purposes in order to help optimize the Users experience on the site. More information about the privacy policy of Google Analytics

THIRD PARTY ADVERTISING COOKIES: PARCLICK's Website uses these types of Cookies to aid the operation of several web advertising services (Google Adsense and others similar to it that may be added to this list in case they vary from the current ones). Thus, these advertising services can store Cookies sent from the applicable PARCLICK Services of the User's browser, and also access the data stored in them. More information about the privacy policy of Google AdSense
How to disable Cookies and Web Bugs in main browsers
It is normally possible to stop accepting Cookies from the browser, or to stop accepting Cookies from a particular Service.
All modern browsers allow you to change Cookie settings. These settings are normally found in the 'options' or 'preferences' menu of your browser. You can also configure your browser or email manager and install free add-ons to prevent Web bugs to be downloaded when you open an email.
PARCLICK's Website offers User orientation regarding the steps to access the cookie preference menu and, where appropriate, regarding private navigation for each of the main browsers:
Internet Explorer: Tools → Internet Options → Privacy → Configuration. For more information, you can consult Microsoft support or the browser's Help menu.

Firefox: Tools → Options → Privacy → History → Customized Configuration. For more information, you may consult Mozilla support or the browser's Help menu.

Chrome: Configuration → Show advanced options → Privacy → Content configuration. For more information, you can consult Google support or the browser's Help menu.

Safari: Preferences → Security. For more information, you can consult Apple support or the browser's Help menu.
What happens if Cookies are disabled
Some Services functions will be disabled, for example, remaining identified, keeping purchases in the "shopping cart" or receiving information about your location.
Updates and changes in the privacy and cookie policies
PARCLICK's website can modify this Cookie Policy based on legislation demands, regulations, or in order to adapt such a policy to the instructions dictated by the Spanish Data Protection Agency, therefore we advise Users to periodically check the policy.
Whenever significant changes are made to this Cookie Policy, they will be communicated to the Users through PARCLICK's Website.
Privacy policy
Parclick S.L. complies with the Organic Law 15/1999 of December 13th, Protection of Personal Data, the Royal Decree 1720/2007 of the 21st of December approving the Regulations implementing the Organic Law and other applicable, valid regulations, and seeks to ensure the proper use and handling of personal user data.
Modifications and errors
Parclick reserves the right to change or update without notice the contents of the website, its features, settings and display. Parclick does not guarantee the absence of errors on its website or that its contents and features are up to date at all times, although it will make every effort to prevent and correct such errors. Parclick is not responsible for possible security errors that may occur when using its website, as a consequence of viruses in the computer used by the user, or a malfunction of the browser or of the use of outdated versions of it.
User registration conditions
The personal data requested in this section is necessary for the user to benefit from the services offered by Parclick, in particular booking or purchasing services relating to the management of parking products.
This data will be treated in accordance with the regulations governing the protection of personal data. They will be included in Parclick's user file, which will be under the responsibility of Parclick S.L.
The acceptance of the transfer of personal data assumes that you give full consent to be a part of this file and for Parclick to contact you to respond to your query and to receive newsletters, commercial information, and discount and promotion campaigns by email and telephone.
You are entitled to exercise the rights of access, rectification, cancellation and opposition in the terms included in the Organic Law of Protection of Personal Data. To exercise these rights, you can communicate by any means that allow the sending and receiving of the request to Parclick S.L., Calle Cidro, n.3, Madrid, to the attention of the Data Protection Department.
Legal information
---
Identification Data
In compliance with Law 34/2002 of July 11th, regarding the services of the Information Society and Electronic Commerce, we inform that the proprietor of the website www.parclick.com is Parclick S.L., located in Madrid, Calle Fray Luis de León, n.11, CIF B86329984, registered in the Commercial Registry of Madrid, volume 29408, Book 0, Sheet 121, Section 8, Page M529337.
Use and intended purpose of Parclick
Parclick, through its website, provides users with data, information and services relating to the management of parking resources. To benefit from these services the user provides information, particularly upon booking or purchasing a service, as well as upon registering to access their private page.
The User agrees that all the information submitted is true, accurate and legal. Parclick reserves the right to remove any information or comment that violates the respect and dignity of the person, public safety, or that, in its view, does not seem appropriate to its publication. In any case, Parclick is not responsible for such information, opinions or comments.
Copyright
The Users grant Parclick the non-exclusive right to use all the information provided through its website. Moreover, the intellectual property rights of the website and its elements are held exclusively by Parclick S.L., and in particular the rights of reproduction, distribution, public communication and transformation.
Links to third parties
The website may contain links to external websites. Parclick is not responsible for the use or contents of those websites.
Parclick grants third parties the rights for partial reproduction of the contents of this website, provided that the following conditions are met:
That it is compatible with the website's purposes

That it is not done for commercial purposes

That no graphic content is used separately from the text which accompanies it
Purchase process
The website guides the user through the various stages of the process and on how to make the payment. By clicking on the "CHECKOUT" button, the system will redirect you to a secure payment page and will give you confirmation. After making the payment you will receive a proof of purchase receipt by email.
Acceptance of car park terms
When making the purchase, the user explicitly accepts the current terms of use and access for the car park or parking lots to be used, and understands that these rules are dictated exclusively by the car park or parking lots. Under no circumstances, including without limitation negligence, will Parclick be liable for damages of any kind to vehicles, persons or property, including without limitation any direct, indirect or expressly warned damage, arising out of or in connection with the access to, or use of, the car parking or parking lots.
Prices and discounts
Prices include V.A.T as indicated on the receipt. Prices for each product are established by each car park operator and may vary without notice, however once the customer has come to step 3 (before payment) the amount due for the product purchased is fixed and invariable. Any discounts will be applied until the discount code digits provided run out. When this occurs, the promotional codes will no longer be accepted.
Responsibility
---
Parclick has agreements with car park operators who are responsible for the corresponding parking service product offered for purchase through Parclick. However, Parclick is responsible for the security of online payments as well as giving reserved access to the information of the bookings made to the car park operator through the website.
Product exchange
Each product can be exchanged in the car park within the time window specified for this product exchange by presenting the booking confirmation to the car park operator. After this term has passed, the booking confirmations can not be exchanged nor refunded.
The client has the option to modify or cancel a booking, while taking into account the following conditions:
Cancellations
You can cancel your reservation provided that you do so before 11:45pm on the day before your arrival.
You can do so free of charge if you cancel your booking from your Customer Account ("LOGIN").

Or for only 1Euro + VAT, send your cancellation request to info@parclick.com with your booking reference and we'll cancel it for you.

Free of charge does not include a refund of the processing fees associated with your product purchase.

If the cancellation request is received after 11:45pm on the day before your arrival, we will not be able to cancel or refund your reservation.
Exceptions:
In Nice-Côte d'Azur Airport car parks, the amount will be retourned only if requested at least 48 hours before the arrival date.

Garage d'Abbeville car park does not allow cancellation under any circumstances.
Modifications
You can modify your reservation provided that your request is made before 11:45pm on the day before your arrival date.
You can do so free of charge if you make your request from your Customer Account ("LOGIN").

Or for only 1Euro + VAT, send your modification request to info@parclick.com with your booking reference. Once your booking is updated, we will send you a new voucher.

Free of charge does not include the additional costs associated with extending your booking.
Cancellations or modifications to bookings made at the Guadeloupe and Martinique airport car parks must be made before 18:00, at the latest, the day before your arrival.
How does it work?
Search
Where do you want to go? Don't worry, we will help you park. We operate in over 170 cities, just tell us where you want to go and we will find the best price for you.
Book
Choose the offer which best suits your needs or take a look at our parking passes. Booking a parking space has never been so easy.
Park
Your place is guaranteed. Drive to the car park and use your booking number. That's it! You won't have to worry about parking again.