Last parking area in Venice
Now don't get us wrong, Venice is absolutely stunning, but let's face it, it can be an absolute nightmare for parking! We're not kidding you, there's only option to park in this city of water-ways, and it's called the Piazzale Roma car park! This is on the mainland, and then you can use Venice's excellent public transportation system to take you all major points of interest in Venice!
We recommend that you reserve a parking space in advance, as Venice is a very popular destination and there is limited availability of available parking. This is a very big car park, but don't let this fool you, no matter how many parking spaces are available, there's always more people who want to park there! This means that when you arrive in Venice, you can start your trip as easily as possible, not having to circle around the car park for a space that probably won't be there.
Take a look at our website, where you'll find a wide selection of different car parks in and around Venice. Book a parking space and start your journey through the water city without stress!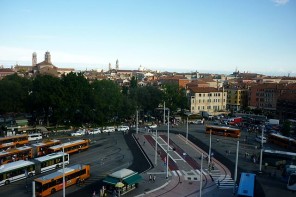 Piazzale Roma
In 1933 the bus station Piazzale Roma was opened and since then it has been the place to park in Venice.
The bus station is connected to the mainland by the four-kilometer long, Ponte della Libertà. So to get the Piazza Roma car park, just drive over the bridge!
In the immediate vicinity there is the Santa Lucia station, which you can reach by crossing Ponte della Costituzione.
There are also several boats, from Piazzale Roma which go directly to the centre or to the Venice Marco Polo Airport, and the People Mover which connects the centre to the island of Tronchetto. Of course, you can also walk a few minutes, to the next ACTV (Venice's Public Transportation Company) terminal of the Vaporetti waterbus. From here you can go wherever you want in the city. Tickets for public transport can be purchased directly at Piazzale Roma and with the regular ticket (€7.50) you can travel on all the navigation lines for 75 minutes from the moment that it's been validated. Now, cruising down Venice's Grand Canal does make a nice change to a stuffy metro, right?
The unbeatable position of the Piazzale Roma car park makes it a fantastic place to be parked. But we cannot stress enough how high demand is, so please book now to avoid disappointment.
We wish you an unforgettable trip!