Parking for 3 Day Stays
Many people visit Paris for short breaks, if you are planning a few days in Paris, here are a few car parks ranging from €49.95 to €114 which will be convenient for your stay:
Are you thinking about coming to Paris? More importantly - are you thinking about driving and parking in Paris? Whether you're coming here for a getaway, or you have recently moved to Paris, we will give you all the best car park tips and options! So, before you go and visit the beautiful Eiffel Tower, explore the winding streets of Montmartre or enjoy a romantic stroll down the banks of the Seine, make sure you read this article we have prepared for you, to ensure there are no unpleasant parking surprises in this spectacular city.
Important Information about Driving in Paris
Perhaps one of the most important pieces of information you should know before driving in Paris is the environmental traffic restrictions and how you can drive around Paris without getting a fine. Under the Paris ULEZ (Ultra Low Emission Zone) scheme, you have to get a Crit'Air sticker in order to drive in Paris. If you need to drive around Paris and you don't have a sticker, order one and keep the receipt in case you are questioned.There are also sometimes car-free days which are promoted by the city council around September time. Events can also take place, such as the Paris Marathon, which can close off certain areas of the city to cars. It is therefore essential that you look up possible current restrictions which could affect your trip. If these restrictions worry you, or you would prefer not to have to bother with a sticker, have a look at our Park and Ride Car Parks, which are car parks located on the outskirts of Paris near to public transport links. We will explain all of these options later in the article.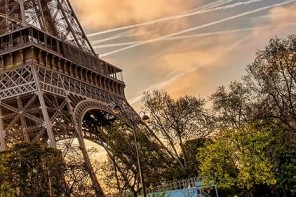 How much does it cost to park in Paris?
In Paris, there are two ways you can park your car - using on-street parking or using car parks. The advantages and disadvantages of both options can depend on the area you wish to park, so it is important you plan your parking ahead of your trip. On-street parking in Paris is relatively expensive compared to other European cities. On-street parking is divided into two price zones, the central zone which costs €4/hour to park and the outskirts, where on-street parking costs €2.40/hour. Parking tariffs apply between 9am and 8pm and you can pay for your on-street parking using the nearby parking meters or designated mobile phone apps. On-street parking is expensive and often hard to find and to make matters worse, it is often limited to only two hours if you haven't got a residence permit. To save yourself the headache of finding parking, why not pre-book your parking space with Parclick? Booking in one of our car parks not only saves you time, but is often the same price or cheaper than on street parking. What's more is that your car will be in the security of a car park, which avoids on-street parking problems such as vandalism, robbery and damage to your car.
Is there free parking in Paris?
One of the most obvious questions you probably have is how to park your car for free in Paris! We want to be transparent about how difficult parking for free can be in Paris, however it is by no means impossible! The best part of Paris to find free parking is in the Bois de Vincennes district, particularly around the Daumesnil Lake, Route de la Pleine and L'avenue du Bel Air. This free parking is handy, however it is located on the outskirts of Paris and if you are in Paris for a short time, it may be more convenient to park in other areas of Paris in order to be able to make the most out of your trip. Street parking in Paris is free on Sundays, however it can be incredibly limited and difficult to find. If you are looking for parking in a particular area, especially around the centre of the city, you are better off to prebook one of our many cheap car parks which are in excellent locations across Paris! This way, you can reserve your guaranteed parking space, at the best possible price, and completely forget about the stress of finding a parking space in Paris!
Does Paris have a Park and Ride?
We have the perfect solution to car restrictions, Crit'Air stickers and traffic nightmares in the centre of Paris. Many tourists and visitors that go to Paris choose to park in one of our car parks. These car parks are located on the outskirts of the city and are well connected to the centre via public transport. This is a cheap, convenient and safe way to park your car in Paris. We have low-cost park-and-ride facilities located in Marne-la-Vallée, Chatou and Orly. From these car parks, you will be able to get to any part of Paris quickly and easily by using public transport, particularly the metro and the RER.
Is parking free in August in Paris?
Unfortunately, although on-street parking in Paris used to be made free for the month of August, the Paris City Hall voted to abolish this and now normal parking rates apply across August. However, the perk continues for those who have a disabled parking badge or those with eco-friendly vehicles. Not to worry if you don't have a badge or eco-friendly vehicle, you can find many affordable car parks with the Parclick app!
Long Term Parking in Paris:
If your stay in Paris is a little longer, we can help you get a good deal on long term parking. With Parclick, you can reserve a parking space for a few hours, a few days, a few weeks or even months. We offer monthly subscriptions which are great value for your money and can offer you the opportunity to book a parking space for up to a year at a discounted price. Our 24-hour monthly subscriptions allow you to park at any time of the day or night, 7 days a week. If you only need to use the car park during the day, we can offer you special Work Subscription deals that allow you to park during the working day. If, on the other hand, you need an evening/night parking space, we can offer you a Nightly Subscription, which allows you to park at night, which is ideal if you would like to leave your vehicle safe at night.
Check out our monthly subscriptions for parking in Paris all year round. If you can't find what you're looking for, contact us at our Customer Service Centre and we'll look for the best option for you among the available car parks in the district or arrondissement that suits you!
Paris' Most Popular Sites
Parclick has extremely reasonable car parks to choose from, in some of Paris' most visited places. We have gone to the effort of including some of our best selling car parks for you. Many of our car parks are within walking distance from the most popular attractions and pre booking a car park space will help you to make the most out of your trip.
Parking in Montmartre
If you want to park in Montmartre, Parclick recommends these following car parks
Parking in Champs-de-Mars
Parclick offers the following 5 car parks in the Champs-de-Mars area:
Parking in Porte Maillot de Paris
We recommend the following car parks in Porte Maillot de Paris:
Train Stations
Are you planning to take the train in Paris? If so, you may want to start thinking about how you are going to park. Whether you are leaving your car for a few hours or a few days or weeks, it is better to plan your parking in advance to save money and time. Luckily, at Parclick we have parking in train stations covered.
Some of Paris' main train stations include:
Gare du Nord: the largest station in Paris in terms of passenger numbers, it serves the north of France, as well as certain neighbouring countries: Germany, the United Kingdom, Belgium and the Netherlands.

Gare Montparnasse: serves the west of the country, including Brittany and the Bordeaux region.

Gare de Lyon: this station serves Lyon, but also the south-east of France and other countries such as Italy, Spain and Switzerland.

Gare de Bercy: serves the centre of the country.

Gare Saint-Lazare: mainly for regional trains but also Normandy.

Gare de l'Est: Mainly serves the east of the country, including Alsace, but also several German cities.

Gare d'Austerlitz: this station serves the South, including Toulouse.

Massy TGV station: this station is served by the B and C lines of the RER Regional Train Lines. Several high speed trains (TGV) trains pass through here.

Marne-la-Vallée station: Located in the commune of Chessy, this station is served by national and international TGV trains.
Airports
Most Parisian airports are located well outside of the centre. Paris and the Ile-de-France region has various airports including:
Parking at Parisian airports can be complicated therefore we recommend you book in advance. At Parclick, we have the best parking deals for you across many French airports. Make sure you plan your parking and check out our amazing deals. You can also enjoy your holiday by leaving your car safe with Parclick.
Paris' Best Tourist Sites
If you are going to spend a weekend in Paris, we've got you covered as we have prepared a brief outline of the best of Paris! Thousands of people from all over the world visit Paris every year, and it's not for nothing! The city of light is full of sites you really can't miss! Let us tell you about our favourite city!
Some of the most iconic landmarks you've probably heard of are the Arc de Triomphe on the Place de l'Étoile, the Eiffel Tower and the Champ de Mars at its feet, the Île de la Cité and of course the Notre-Dame cathedral. Paris is also home to the famous catacombs, which can be reached from Place Denfert-Rochereau, and the Sacré-Coeur Basilica on the Montmartre hill.
If you are searching for a magnificent view of Paris, you must take a trip to the following places. The most obvious viewing point is the Eiffel Tower, which stands at more than 300 metres. The Montmartre Hill also provides a good view over the city and if you're around the Montparnasse Tower, make sure you climb to the top for another breathtaking view.
Other sites that can't be missed on a visit to Paris include the Invalides (where Napoleon was born), the Opéra Garnier and the Pantheon. Thanks to our numerous secure car parks, it will be easy to park your car while you discover the capital.
What to do in Paris:
There are so many things you can do in Paris. Some of the best days out for you and your family include a trip to the Vincennes Zoo or the Paris Aquarium. There are also many cultural events and festivals which fill the city all year round! Whether that is Chinese New Year in the 13th Arrondissement or the Paris Plages (Beaches of Paris) initiative which sees Paris open artificial beaches, it is safe to say you will never be bored in this magical city! We recommend you check out the Nuit Blanche of Paris, which is a night which covers the streets of Paris in art and celebrations. Paris' Christmas Markets will not fail to impress you either! The most significant day, however, has to be Bastille day on the 14th of July where you can see the fireworks on the Champ de Mars and the military parade on the Avenue des Champs-Elysées. When you are attending an event however, make sure you prebook your parking space with Parclick as roads can be closed and parking can be next to impossible!
Museums and Exhibitions
Paris is well known for its wide range of museums and cultural exhibitions. You can no longer use parking excuses to get out of museum trips, as Parclick can provide you with Before you had the excuse of parking, it's true, but now that you've discovered Parclick, you no longer have a valid reason not to go as we have car parks located next to Paris' key museums!
Some well known museums include the Louvre, the Orsay Museum and the Grevin Museum. If you are interested in Carribean and African Culture, the Dapper Museum is a must for you! The Maison Louis Vuitton is also a must for all fashion lovers, even the building itself is a masterpiece. The Museum of Modern Art of the City of Paris, which is situated near the Eiffel Tower, is not as well known as other museums but it displays paintings by famous artists such as Matisse and Picasso. Finally, the Quai Branly Museum, dedicated to non-Western cultures and offers a permanent collection and various exhibitions. Make sure you also look out for temporary exhibitions, which pop up all around Paris, some of them are even free, particularly around the Jardin du Luxembourg and on the Champs-Élysées. Don't get caught out on parking when visiting museums, make sure you book with Parclick so you can enjoy your day out without parking stress!
Exhibition Centres:
Paris is most definitely a city of business and it is not surprising that over 400 international trade fairs are held here every year. The Porte de Versailles exhibition centre (or Paris Expo) is one of the prime locations for these fairs, which range from agricultural fairs to motoring fairs. There really is something for everyone! The Palais des Congrès in Porte Maillot, the Espace Champerret and the Parc Floral are also just a few of the places where events and fairs are held in the French capital. When attending an event, we can help you find your parking space around the exhibition centres, to avoid disappointment and expensive rates on event days.
Sports in Paris:
Paris is home to many professional sports teams and is consequently filled with different sports stadiums. If you are coming to watch a match or a sporting event, do not get confused between the many sporting venues in Paris.
Stade de France: This stadium is for rugby matches and international sporting events.

La Défense Arena: Home of Racing 92 Rugby Club

Jean-Bouin Stadium: For Rugby events

Parc des Princes: Home to Paris' most famous football club: Paris Saint Germain (PSG)

Salle Charpy: Home of Paris Volleyball Club

Paris-de-Coubertin Stadium: Home of Paris Saint Germain Handball Club
Don't get confused between the stadiums and make sure to reserve your parking space in advance for big events!
Concerts in Paris
Whatever your musical tastes, Paris has no shortage of concerts or music festivals of all kinds. You will find numerous concert halls and stadiums. Some concerts even take place at the Stade de France or the Parc des Princes. If you're lucky, you can also attend open-air concerts on the Champ de Mars. The Parc de la Villette is home to several concert halls including the Zénith de Paris, the Philharmonie de Paris and the Cité de la Musique. Whether it is ballet, opera or one-man bands, there really is something for everyone. Some of the most popular events venues include.
The Palais Garnier: the famous Paris Opera House, close to the rue de la Paix

The Olympia: the oldest music hall in Paris

The Palais des Sports: the famous dome of Paris, the amazing architecture of the building alone is worth the trip

AccorHotels Arena: The famous Bercy Arena, formerly the Palais Omnisport de Bercy, it doesn't matter what you call it as long as you know how to get there (and where to park)

Paris La Défense Arena: one of the largest venues in Europe with a capacity of up to 32,000 people

The Zenith de Paris: The concert hall in the Parc de la Villette
Don't miss the first part of the concert and book your parking in advance with Parclick! Parclick offers you cheap secure parking near every concert venue in Paris.
Theatres in Paris
Paris is known for its beautiful theatres and variety of events to choose from. Let us tell you our favourite theatres in Paris. The Mogador theatre, the famous Moulin Rouge, the Lido de Paris, the Folies-Bergères and the Comédie Française, are only some of Paris' most visited theatres. There are also many smaller venues and shows to suit all tastes.
Enjoy!
The most important part of our advice to you is to enjoy Paris. Explore this magnificent city and fall in love with it! We promise you, you will not be disappointed. Make sure you take our advice and take advantage of our great deals across the city! Save money, time and stress with Parclick!