How much does parking in Venice cost?
You have finally decided to visit the famous city of Venice, declared a World Heritage Site by UNESCO for its unique location and artistic heritage, it's a dream destination for tourists from all over the world, especially for the romantics. Whether you are only visiting for a few days, or you are planning a move long term, this guide will tell you everything you need to know about the city of Venice, particularly by giving you an insight into one of the most difficult things in this city, parking in Venice.
Let's start with the basics. The city of Venice is unique and is made up of some territories situated on the mainland, such as the city of Mestre, as well as some island territories in the Venetian Lagoon.The heart of Venice, the historic center, lies in the lagoon and is formed by 118 small islands connected to Mestre on the mainland by an almost 4km stretch of bridge: the Liberty Bridge. As you can probably already guess from this little introduction (or by simply looking at the city on Google Maps), since it's made up of so many little islands connected by bridges and canals, Venice is literally a city without streets! For this reason, we thought we'd give you a few pieces of advice if you're planning a car trip to Venice. If you need information about how to get around Venice, and especially about where to leave your car when you want to go out and explore the city, we're sure you're going to want to read on!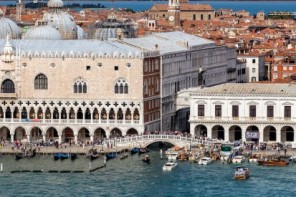 Parking in Venice
How much does parking in Venice cost?
The island of Venice is not the cheapest place to park your car due to an extreme shortage of parking on the island. A car park on the Venice Islands costs between €20-€30 per day. A cheaper option to park is to use a Park and Ride car park on the mainland, where there is more available parking. Some car parks on the mainland even include transport into Venice as part of its service, however there are many public transport links which you can take advantage of if you would like to save money. Whether you decide to park on the island of Venice, or on the mainland, you will find the best deal with Parclick car parks. We offer the lowest parking prices across Venice!
Where can I park in Venice?
Parking in Venice is unique, and for this reason it is important that you plan ahead and that you know the different options which are available to you. You are in luck, we have done all of the hard work for you and prepared a guide so that you will know how to park in Venice better than the locals!
Parking on the Island of Venice
This is no doubt the most difficult place to find parking around Venice is on the island itself. As the Island of Venice is made up of many different islands, there is no on-street parking (for cars anyway!). Your only option is to prebook at a car park and explore Venice by foot. Don't be fooled, as finding a car park in Venice is far from easy, as there are very few. It is essential that you prebook your car park in Venice in advance to avoid disappointment. Parking on the Island of Venice is good if you are staying for a few days and have a lot of luggage to bring. Please remember, however, that your car will be of very little use around Venice itself, as Venice is mostly water! If you still wish to bring your car, head over the Liberty Bridge to Piazzale Roma, this square is as far as you can go with your car in Venice.
Parking on the Mainland:
This is also a popular option for parking in Venice and many visitors choose to park in Mestre, the nearest city to Venice on the mainland. Park and Ride Car Parks on the mainland are very popular amongst tourists. They are cheaper than car parks around the island of Venice, and save the hassle of driving into Venice. The islands of Venice are well connected by public transport, with trains, ferries and buses connecting Venice to Mestre. Once you've parked your car, make your way to the Venice Mestre train station, and enjoy the scenic route into Venice's Santa Lucia Station by train. The train will leave you in the middle of Venice's Historic Centre in only 10 minutes.
Are cars allowed in Venice?
To answer this question simply, it is not possible to drive around Venice. The Lagoon, which is the centre of Venice, has no streets, only canals! Locals prefer to ride a gondola, a water taxi or use public transport boats! We recommend you follow the locals lead and park up your car while you are in Venice. You will thank us for this advice when you are here! Make sure, however, that you have arranged your parking beforehand, because as you can imagine, the car parks fill up quickly. Have a look at our car parks in Venice to get the best deal when you park in Venice.
Is there free parking in Venice?
Parking for free on the island of Venice is virtually impossible, particularly as there is no on-street parking and a big shortage of parking. Free parking in Mestre is also very limited and most tourists choose to book their parking in advance as car parks fill up and free parking is almost non-existent.
Where can I park overnight in Venice?
In addition to booking a car park for a few hours or days, with Parclick you can also rent a parking space in Venice to leave your care in a safe place for as many days, or months, or even years. At Parclick, we offer monthly passes with 24-hour access, or just daytime or nighttime access if you prefer.
The important thing is that your parking space is always guaranteed. What are you waiting for? Go ahead, take a look!
Check out our options for renting parking spaces in garages in Venice, and if you don't find what you're looking for, don't hesitate to call us! We're here to help you park wherever it's most convenient for you.
Visiting Venice
Now we've got the difficult part over, parking in Venice, we can start to tell you the real interesting information, the amazing things you can see here! Venice, also known as "la Serenissima", is a historic city that was the capital of the Republic of Venice for more than one thousand years. Thanks to its rich history, the city still has an incredible cultural heritage and artistic and architectural legacy today.
Venice Districts
The city is divided into 6 districts, known as "sestieri":
San Marco

Dorsoduro

Santa Croce

San Polo

Cannaregio

Castello
​The entire historical center of the city is traversed by the famous Grand Canal, from which 158 smaller canals split off.
Want to know what there is to see in each district? Keep reading!
What to do and see in Venice
Venice is the perfect place for a romantic trip and for a stroll along its famous canals. If you visit Venice, there are some places you can't miss!
What to see in San Marco
First of all we have the famous San Marco Plaza, where you can find the Basilica of San Marco, the patron saint of Venice. You can also visit the San Marco bell tower, the clocktower, and the Palazzo Ducale (Doge's Palace, formerly the chief magistrate's residence and seat of government). You can also admire the famous Bridge of Sighs (Ponte dei Sospiri) in the San Marco district, along with the Basilica of San Giorgio Maggiore, the San Moisè Church, and La Fenice Theatre (Venice's main opera house).
What to see in Dorsoduro
In the Dorsoduro district there is plenty of art and architecture to be seen, in the form of both museums, like the Academy Gallery of Fine Art, and palaces, such as Ca'Rezzonico and Ca'Dario. There are also several must-see churches, like the Basilica of Santa Maria della Salute, the Church of Santa Maria del Rosario (locally known as Gesuati), and Ognissanti. The Dorsoduro district is split in two by the Grand Canal and part of it lies on the island of Giudecca, where you can find the Church of the Redeemer. And last but not least, Dorsoduro is home to Ca' Foscari University of Venice, housed in the Gothic palace Ca' Foscari.
What to see in Santa Croce
Santa Croce is the smallest district in Venice, but it still includes the little island of Tronchetto, the Piazzale Roma we mentioned earlier, and the Constitution Bridge, which connects Piazzale Roma to the Santa Lucia train station. In Santa Croce you can find the Ca' Pesaro Palace, the Church of San Stae, the Church of San Nicola da Tolentino, and the Civic Museum of Natural History. This district also borders the San Polo district, which we'll talk about next.
What to see in San Polo
One of the main sights to see in San Polo is the Rialto Bridge, which connects this district with that of San Marco. Here you can't miss the Church of San Giacomo di Rialto, the Basilica of Santa Maria Gloriosa dei Frari, and the Scuola Grande di San Rocco, a lay confraternity created to help people during the plague.
What to see in Cannaregio
The Cannaregio district is the only one you can take a ferry through, via the Cannaregio Canal and the Grand Canal. Here you can visit three particular bridges: Ponte degli Scalzi ("Bridge of the Barefoot Monks"), Ponte delle Guglie ("Bridge of Spiers"), and Ponte dei Tre Archi ("Bridge of the Three Arches". You can also find the Church of the Madonna dell'Orto, the Church of Santa Maria dei Miracoli, and what was the old Jewish Quarter, the home of the city's Jewish community in the past.
What to see in Castello
And last but not least, we'll tell you about Castello, the largest of Venice's 6 districts. It's the only one not located on the banks of the Grand Canal, but it does have the Church of San Zaccaria, the Basilica of Santo Giovanni e Paolo, the Grand School of San Marco, and the Venetian Arsenal, former naval base that houses numerous art exhibitions during the Venice Biennial celebration.
All the places we've mentioned undoubtedly form just a small part of the many wonders in Venice's historic center and its lagoon. Don't forget about the other islands of Burano, Murano, San Lazzaro degli Armeni, and Lido di Venezia.
What to do in Venice
Events and Festivals in Venice
Venice is full of people all year long, but if there's just one time that it's worth braving the crowds to visit the city, it's most certainly during its most famous event: The Venice Carnival.
If you're a movie lover, then you should experience the lively environment that fills the city during the Venice International Film Festival.
During these major events, finding a parking space in Venice is definitely going to be difficult… That's why we recommend you use Parclick to book your parking spot in advance!
Travelling from Venice
Venice is a wonderful city to visit, and thanks to its port and airport, it's also a great jumping off point to set out and discover even more fabulous Mediterranean and European destinations! If you're planning a trip from Venice, we can help you park securely in the Venice Port or close to the Marco Polo airport.
Parking at the Venice Port
The port of Venice is one of the most important Mediterranean ports. If you're looking for parking close by, you may be considering a cruise from Venice. There are many cruise companies that organise trips that leave from Venice and make stops all across the Mediterranean Sea. But there's another option if you just want to make one stop: Take a boat to Greece or Turkey!
The area around Piazzale Roma is always going to be the best option if you want to park near the Venice Port since it's only a 10 minute walk from the Venice Passenger Terminal, where all the cruises and ferries leave from. There's also a People Mover (elevated public shuttle train) service that connects Piazzale Roma to the Venice Port, ending at the artificial island of Tronchetto.
Another option is to choose one of our car parks on solid land that offer you a free transportation service to easily arrive at the port after parking your car in a secure place.
Parking near the Venice airport
If you've already decided to catch a flight from Venice, we have some alternatives so that you can park near the Venice airport. Take a look at our car parks with free transportation services to the airport to get to your terminal in a jiff the day of your flight. ;)
After allthis information, you can't say we haven't prepared you to take Venice by storm from the moment you arrive! Discover one of the most romantic cities in the world while you leave your car in a safe place in one of our car parks.
But if you're one of those people with an insatiable appetite for knowledge, you can also take a look at our guide about what to see if you only have one day in Venice, or choose which hotel to stay at. ;)