How much does parking cost in Madrid?
If you need a parking in Madrid the first question that comes to your mind is probably: How much will parking cost me? Well, here we tell you all about where to park and at what prices.
You can park in the center of Madrid for as low as 2€ for the first hour and at cheaper prices for subsequent hours if you book with Parclick. Likewise, you may book a parking space for only 14,95€ per day in Gran Vía, in the heart of Madrid. Whatever your destination in Madrid, we have parking lots in all neighborhoods for you to book at the best price:
Affordable Car Parks near Adolfo Suárez Madrid-Barajas Airport
If you've chosen the comfort and convenience of travelling by plane, naturally you'll want to choose the convenient option of parking close to Adolfo Suárez Madrid-Barajas Airport. That's why we at Parclick recommend you book a spot in advance in one of our car parks near Adolfo Suárez Madrid-Barajas Airport. From 14 euros a day, we are sure you will find a parking that will be in your preferred price range. Whether you're going out of town for 1 week, 1 month, or even 6 months, we have a wide range of long-stay car parks at the Madrid airport. And if you book in advance with Parclick, you'll have a guaranteed spot waiting for you. So, you can pack your suitcase right before you head to the airport with all that time you'll save looking for parking.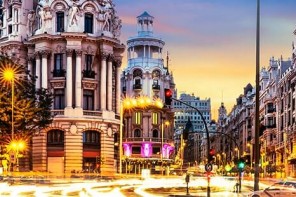 Long stay car parks at the Main Train Stations
Or perhaps you're not going quite as far, you're travelling by train to other cities in Spain. If you want to save time and not have to lug your suitcases all over Madrid, book a spot in a car park in Atocha from just 15 euros a day or in one of our car parks in Charmartín. We also offer long-stay car parks in Madrid at affordable rates. Start your trip off on the right foot by booking a parking space near the main train stations in Madrid!
Low-cost Car Parks Near Bus Stations
In the case you decide to take a bus out of Madrid, you need to know where it leaves from, since there are multiple bus stations in the city. But wherever it is, book in one of our monitored car parks in Madrid or in one of our long-stay car parks near the Madrid bus stations.
Parclick also offers many more public car parks at very affordable prices that you can book from 1h to 365 days. Reserve your parking now!
If you find yourself in Madrid, you will quickly see that the city offers a large variety of activities for everyone and tourist sites that can't be missed. And no matter what season it is, Madrid never disappoints. Between the craziness of a capital, the nights out that you'll never forget, Sundays at the Rastro flea market, evening plans in one of the city center neighborhoods such as Lavapiés or Malasaña, wandering the streets and taking pictures of every corner, or even riding the Madrid cable car and seeing the whole city from a whole new perspective will make your time in Madrid unforgettable.
Scream until you lose your voice at Madrid's theme park or see your favorite characters at Warner Park, soak up the cultural legacy of Cervantes in his birthplace Alcalá de Henares, or simply ride the subway and lose yourself in new parts of the city. What more can we say? Keep reading to find out more about Madrid and what it has to offer :)
Where can I park in Madrid?
City Center
If you are looking for the cheapest car parks in Madrid's city center we tell you your best options!
And many more parking lots at unbeatable prices: for hours, days, months and even years!
In addition to being able to book a parking space for hours or multiple days, at Parclick we also offer you the opportunity to rent a garage space in Madrid so that, from month to month, you always have a guaranteed place to park your vehicle. We have monthly tickets for 24 hours, which let you use the garage at any hour of the day, every day of the week. And if you only need to park your car, motorbike, or van during the day, we have daytime monthly tickets to park during the workday, or nighttime monthly tickets so that you can always park your car close to home at night.
Check out our offers of monthly tickets to park in Madrid, and if you don't find what you're looking for, contact us and we'll find the best option for you in the area you want.
Parking near the main sites in Madrid
If you're in Madrid for tourism, your first obligatory stop must be Puerta del Sol to see the City Hall, the clock that chimes every hour, and the Oso y Madroño statue. From there, take a walk to the majestic Royal Palace and the Sabatini Gardens. But you can't pass through this area without visiting the incredible Almudena Cathedral… It's bigger than you think! And if you're feeling tired, head towards Templo de Debod and enjoy the beautiful views of the capital from this relaxing park.
To see Madrid at night, start your route in Plaza España and walk up Gran Vía, taking in all its splendor.
For some good shopping, the best places are Gran Vía, Princesa Street, and Goya Street, or if you prefer high fashion and designer labels, head to Serrano Street. Rough day? To have a rest, hit the supermarket and have an improvised picnic in the famous Retiro Park! Lay back on the grass and relax in this oasis right in Madrid.
Search our great options for parking in the center of Madrid and book your parking spot close to the main sights of the city. :)
Park Near Restaurants in Madrid
From a simple calamari sandwich in Plaza Mayor to a restaurant with 3 Michelin stars on Paseo de la Castellana, Madrid has some pretty spectacular culinary options to offer, in addition to all its historic buildings and squares.
To enjoy a drink or a snack, you can head to the famous food markets Mercado San Miguel or Plaza de la Cebada where you can try a bit of everything. But if you prefer to go out for tapas in Madrid, the best areas would be La Latina, Lavapiés, Barrio de las Letras, or Malasaña, where you'll find tons of bars at good prices!
Without a doubt, there is a large variety of restaurants in Madrid where you satisfy your appetite, from typical Spanish restaurants to more exotic, exclusive restaurants. And to end the day on a high note, we recommend you visit at least one of the theatres in Madrid!
Park Near the Theatres in Madrid
Out of all the genres, in Madrid's theatres the highlights are the monologues, comedies, and most of all, the musicals. The main theatres in Madrid are:
Lope de Vega Theatre: Where you can see the world-famous Lion King.
Royal Theatre: To appreciate the art of opera.
Calderón Theatre: Where multiple musicals have been staged, such as Dirty Dancing, West Side Story, and The Addams Family.
Coliseum Theatre: It's been a full house thanks to major musicals like Mamma Mia and Chicago.
Lara Theatre: Here you can see Spanish original The Call.
Rialto Theatre: This theatre brings the magic to the audience with the Pop Magician.
New Alcalá Theatre: Where Jesus Christ Superstar premiered.
La Chocita del Loro: The most famous place to see monologues in Spain, having seen the likes of Goyo Giménez and Luis Piedrahita, amongst many others.
Circo Price Theatre: A cultural center that hosts small festivals all year long, especially focused in dance, with some concerts.
And there are even more! To be able to watch the whole show, it's best if you book your parking space in advance in a car park close to the theatres of Madrid. :)
Park Near the Golden Triangle of Art
When visiting Madrid, the Golden Triangle of Art is a can't miss: Prado Museum, Reina Sofía Museum, and Thyssen-Bornemisza Museum. Among their respective collections are invaluable works of art by both national and international world renowned artists, such as Velázquez, Dalí, Picasso, Van Gogh, Rubens, and many more. If you're going to spend the day soaking up some art in the center of Madrid, leave your car safely parked in one of our car parks near the main museums of Madrid.
There's still plenty more to see in Madrid, you'll never run out of things to do! Rainy day? You can still go to one of Madrid's cinemas! But we understand that there comes a time when you have to rest. That's why we recommend staying in a hotel in Madrid. And for ultimate convenience… Book your space at a car park close to the hotel in Madrid that you choose!
What do blue parking lines mean in Spain?
Whether you're coming for a visit or you live here, parking in the center of Madrid can be harder than you think. You have two options: Park on the street or in a car park. However, if you prefer to avoid the center, you also have the option of parking outside the center of Madrid. Take a look at our car parks and book ahead of time. ;)
Street Parking in Madrid
If you decide to park on the street, you'll have to pay attention to the two different types, the blue zone and the green zone, marked by blue or green lines, which have time limits.
Blue zone: You can see blue parking lines in blue zones which are zones made for people visiting the zone/neighborhood, paying for the space at the parking meter or through a mobile app. The maximum time is 4 hours.
Green zone: Residents have preferential use of these spaces, though they have to pay a yearly fee in their area in Madrid. The maximum time for residents is unlimited. Visitors can park in these spots paying for their time, but the maximum is 2 hours.
Parclick is the app validated by the Madrid City Council to pay the parking meter both in the blue and green zones on the street. Simple to use and fast, you won't need to struggle finding loose change once you download our app and use Parclick to pay for your parking!
Booking a Car Park in Madrid
At Parclick we recommend you park in a monitored car park through our website or app, so that your car is even safer, to avoid fines, save time looking for a parking space, and, finally, so you don't have to worry about moving your car or having to keep feeding the parking meter.
We have many car parks in Madrid that you can book according to wherever you wish to park. The majority of our car parks in Madrid are located in the city center and close to the most important sights to see. To find a good car park in Madrid doesn't take much effort, just use our search bar and take advantage of the parking offers that only Parclick can provide.
If you decide to book a parking space in an affordable car park with Parclick, you have two options: You can park in the center of Madrid in one of our monitored, long-stay car parks, or you can park outside the city center in one of our car parks and then use the immense public transportation network to get to any part of Madrid. Use our search bar to find the closest car park to your hotel, office, restaurant, event, or touristic place that you want to visit in Madrid.
Is Madrid Spain worth visiting?
Events
If you are debating whether to book that trip to Madrid, we would urge you to go ahead, you will not regret it ! A capital that oozes with life and captivating tourist attractions, Madrid is also known for its many worthwhile events.
Fitur: One of the most important tourism conventions in the world. It's held every year in January at Ifema (Feria de Madrid metro). Book a parking space for FITUR at Ifema.
San Isidro: The celebration of the patron saint of Madrid that takes place during the month of May. The capital is full of music, shows, activities, concerts, etc. But, more than anything, of chulapos and chulapas, the traditional term for Madrid's working class. You'll see plenty of people dressed up wearing traditional clothing. Everyone in Madrid will be in attendance, so we recommend looking for a car park where you can park in Madrid during San Isidro.
Feria del Libro: During May and June, Madrid is full of literature for its annual Book Fair. If you know you're going to be hauling a bunch of books up and down the street, it's best if you have a place to park near the Book Fair.
Gay Pride: One of the biggest celebrations of the year, to show support for LGBTQ rights, typically celebrated in June/July. Book a spot in advance to ensure you find parking during Gay Pride… Love is love!
Vogue Fashion Night Out: For one night only, in September, there's a major event to present the new Fall/Winter collection. Held in the Salamanca neighborhood and on Fuencarral Street. Be fashionable and book a space to park during the VFNO in one of our car parks in the center of Madrid
Concert Venues
Wizink Center: The most-used pavilion for concerts and shows in Madrid and is located in Goya, in front of Plaza de Felipe II. Whether it's Ed Sheeran, Elton John, Melendi, or Disney on Ice, there's always a line out the door to enter. Make sure you don't miss a single minute of the show; book a parking spot at one of our car parks near the Wizink Center.
Palacio Vistalegre: The second most important space for concerts and shows in Madrid. To enjoy the whole performance, be sure to book a parking space in one of our car parks near Palacio Vistalegre. We've thought of everything, we even have special offers during events. ;)
Stadiums
Santiago Bernabéu: If you're a football fanatic, you have to visit Santiago Bernabéu Stadium, whether it's to attend a Real Madrid match or to tour the stadium and museum. Check out our offers for parking near Bernabéu and enjoy all the stadium's events. And if Real Madrid wins an important match… Hurry and get to the Cibeles Fountain to celebrate it!
Wanda Metropolitana: Átletico de Madrid's new stadium located in the Las Rosas neighborhood, in San Blas. In addition to being a football stadium, Wanda also hosts performances by national and international artists. And if Atleti wins an important match, go celebrate it at Neptune's Fountain!
Like in most capitals around the world, when there are important events or celebrations that are known worldwide, finding a place to park for free in Madrid can turn into the Hunger Games, with everyone looking for an open spot on the streets of Madrid. Which is why, at Parclick, we advise booking a parking spot in advance in one of our car parks in Madrid. We're sure you'll find one that's perfect for you!
Can I drive in Madrid?
If you're planning on visiting Madrid and coming by car, you should pay attention to certain aspects regarding driving, traffic, and parking. Despite the enormous number of vehicles on the streets of Madrid every day and the large influx of people that come from outside the city—both for work during the week and tourism on the weekends—driving in Madrid is still something everyone should try at least once.
Madrid Central
Madrid Central took effect on November 30, 2018 and only residents and authorized vehicles (for example, those heading straight to a car park within this area) are allowed to enter and drive through this limited traffic zone. Created to reduce the high pollution levels produced by the constant traffic in the center of Madrid, only the most privileged can enter this area. And… You could be one of them! All vehicles with environmental badges that want to park in one of our car parks in the center of Madrid can drive in Madrid Central.
If you want to know which vehicles can enter Madrid Central, which streets form the limits of Madrid Central, and much more, we explain everything here.
Pollution in Madrid
As we mentioned above, Madrid Central was born from the need to reduce pollution in Madrid due to the constant traffic in the capital. Madrid Central is active every day of the week, every hour. However, if you're going to Madrid by car, you need to know if you can drive in Madrid. Don't worry, we'll explain everything!
When the city exceeds normal levels of CO2, the City Council of Madrid activates pollution protocols. While the protocols are active, there are more traffic restrictions due to the pollution in Madrid. The Plan of Action for Episodes of Carbon Dioxide Pollution took effect in 2018 and has 5 different phases according to the level of pollution. If you're going to drive in Madrid, you need to know your vehicle's environmental badge. Depending on the badge your vehicle has, you could have restrictions in the center of Madrid while one of the phases of the pollution plan is active.
If you want us to let you know each time a pollution phase in Madrid is activated, download our app and we'll send you a notification each time the City Council puts one in place.
Thanks to Parclick, get up to 70% discounts on parking prices and choose the car park that is best for you, looking at price, distance to your destination and client reviews. Use the Parclick app available iOS and Android to reserve and pay for your parking space. Whether you park near the airport, train/bus stations, the city center or other points of interest, for just an hour or for a day, week, or even months, we've got you covered!