Where to park in Barcelona for free?
A cosmopolitan city with parties, good vibes, great weather, beaches, mountains, parks, and incredible monuments. There aren't many cities that have all that in one place, which has to be why Barcelona has become one of the world's most popular destinations! Want to know all about the Capital of Catalonia? Keep reading!
If you are looking for a cheap parking in Barcelona, check out the Parclick parking app! On the app or our website, you'll be able to find many affordable car parks in Barcelona city center from only 9,99€. Get up to 70% discount on your parking reservation in Barcelona!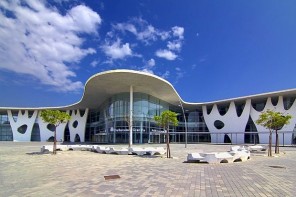 Is it hard to find parking in Barcelona?
Barcelona is a big and populated city, therefore, finding car parking can be quite tricky! Not to worry! If you pre-book a parking spot through Parclick, you have nothing to worry about. Just drive to the city, find the parking garage and enjoy your visit!
Barcelona parking app: parking in the Blue Zone
You will be required to pay for parking in the blue zone if you park on the following dates and times: Monday to Friday from 09:00h to 14:00h and from 16:00h to 20:00h. Payment on Saturdays, Sundays and public holidays is restricted to areas near the beach or in the centre of Barcelona. You can manage your Barcelona parking meter tickets from the Parclick app, paying from your mobile phone. The maximum time you can stay in the blue zone is between 1 and 4 hours, if you need long term parking in Barcelona you'll find all the parking zones in the city at the best price on the same app.
Is parking expensive in Barcelona?
| | | | | |
| --- | --- | --- | --- | --- |
| Parking Barcelona | Price for 1 hour | Price for 2 hours | Price for 3 hours | Type of car parking |
| INDIGO Tres Chimeneas | 1,96€ | 3,92€ | 5,46€ | Indoor parking |
| PROMOPARC Vilà i Vilà | 3,40€ | 5,50€ | 5,50€ | Indoor parking |
| Garaje Carretas | 3€ | 6€ | 8,50€ | Indoor parking |
| Edén | 3,50€ | 9€ | 9€ | Indoor parking |
| PROMOPARC Poeta Cabanyes 4 | 3,78€ | 5,50€ | 5,50€ | Indoor parking |
Parking prices in Barcelona depend on the neighbourhood and whether it is an indoor or outdoor car park. Barcelona city centre car parks are usually more expensive, and as previously mentioned, you should be wary of which parking zone you park your car in. Remember, Área Verda (Green Zone) is designed for residents and non-residents have to pay substantially more in the Green Zone than in the Blue Zone, for only up to 2 hours. If you want to park on-street, you can always use the Parclick app.
We have very cheap parkings in the city centre of Barcelona, we actually have promotions in several parking lots where it is more economical to book the day or 12 hours from 9.99 euros and it is much cheaper than paying by the hour. Some of them are:
Parking in Sagrada Familia: 9,99 euros / day
Parking in Eixample Dret - Gràcia: 9,99 euros / day
Parking in Eixample Esquerra: 9,99 euros / day
Parking in the city centre - Plaça Bonsuccés: 9,99 euros / day
Parking in the city centre - Urquinaona: 12 euros / day
Parking in the city centre - Plaça Catalunya: 12 euros / day
Parking in Ciutat Vella: 15 euros / day
Where can you park in Barcelona city centre?
Parking in Barcelona can be complicated, considering it's the second-largest city in Spain. Nearly 2 million people live in the city, so don't be surprised if you can't seem to find any parking. You will either have to park in a public car park or on the street. To make it easier on you, check out the Parclick app available for iOS and Android. Here, you can book from many car parks in Barcelona. You choose the best one for you!
When driving and parking in Catalonia, there are a couple of considerations you should take into account:
There is a Low Emission Zone (ZBE).
Implemented to restrict the most polluting vehicles from driving in the city. Make sure to check your car's environmental label to find out if your vehicle could be affected by these restrictions. Vehicles that can access the ZBE are those with the labels ZERO, ECO, C, or B. You could also find a parking outside Barcelona ZBE or book a Park and Ride Barcelona parking that will allow you to park and use the public transport to get to the city centre.
This ZBE covers the city of Barcelona (except for the Industrial Zone, the Vallvidrera neighborhood, Tibidabo, and les Planes), as well as L'Hospitalet de Llobregat, Sant Adrià del Besòs, part of Esplugues de Llobregat, and Cornellà de Llobregat.
It is active from Monday to Friday from 7 a.m. until 8 p.m. Vehicles without an environmental label can access the ZBE in off hours, on weekdays from 8 p.m. until 7 a.m. and on weekends. During holidays, those vehicles cannot enter the city of Barcelona.
Another consideration you should keep in mind is how parking spaces in Barcelona are divided into two categories:
Área Blava (Blue Zone): You can park your car, having pre-paid with the Parclick app, for up to 4 hours. If you want to extend the time, you will have to move your car to another place. These parking spaces are designed more for shopping districts, with the idea that you park, spend a while there, and then leave the space available for the next person. The Blue Zone is divided into four categories (A, B, C, and D) and each one has a different fare.

Área Verda (Green Zone): These zones are designed for residents, who can park in the residential zone by paying around 5 euros/month with a special card. For everyone else, the price to park in these zones is more expensive than in the Blue Zone and is limited to a maximum of 2 hours. For paying it you can always download the Parclick app available for iOS and Android and do so.
If you don't follow the rules about the maximum times or fail to pay, your car could be towed and you will have to pay a fine.
3. Lastly, we recommend you to carefully consider what time of year you want to visit Barcelona. In summer, the massive influx of tourists won't only make it hard to get around Barcelona's streets, but also to find a parking space.
Planning to visit Barcelona by car? We can imagine that you're not going to want to be feeding the parking meters your whole trip, or having to move your car every time you hit the maximum time limit. Check out our directory of affordable car parks in Barcelona, further up on this page. Finding a secure parking in Barcelona to leave your car in a safe place has never been so easy (or cheap!).
Parclick also offers car parkings in Barcelona with 24-hour access, which let you use the car park any time, any day of the week. Or if you just need to park your vehicle for a few hours a day on a regular basis, we can offer you daily passes for the workday or nightly passes so that you can always park your car close to home at nighttime.
How do you pay for parking in Barcelona?
In Barcelona, Parclick can help you have a safe and contactless experience, by giving you the possibility to pay the parking meter through the Parclick app! Fast, easy, and practical, download Parclick's app and select the street parking option. Enter your license plate number, your payment method, and park without worries. The time of having to go all the way to the parking meter with a pocket full of change is over. If you book a car park in a car garage through Parclick, the same rules apply. All you have to do is find the best car park that suits your needs, pay for how long you want to keep your car there, and then depending on the car car park, you will receive an email with specific instructions on what to do the day you arrive, for an easy and simple car park experience!
Long term parking Barcelona
Long-term parking in Barcelona can be quite costly. The rates vary based on factors like the car park's location and whether it offers indoor or outdoor parking and whether it is secured or not.
Some of our car parks in Barcelona offer long-term reduced rates for longer stays. You might want to check the rates for monthly parking prices live in our app or check some of our special offers.
Just enter the dates of your stay and you'll be able to compare parking prices to choose the best parking option according to your needs
What is Barcelona best known for?
Barcelona is definitely one of the Spanish cities with the most charm. Some major places to visit quickly come to mind, like La Sagrada Familia, the beaches (especially La Barceloneta) and FC Barcelona's stadium. But Barcelona is so much more. It's art, it's culture, it's enormous yet cozy, it's different, and it's one of the most multicultural cities in Europe. Keep reading to discover everything you can do here.
Even though a short visit is never enough, if you need a quick overview of the Capital of Catalonia, take a stroll downLas Ramblas, it's definitely the best way to get to know a bit of the essence of Barcelona. In addition to La Sagrada Familia, you can see the important influence of some daring architects in buildings like Casa Fuster, Casa Batlló, or La Pedrera. And of course it's in fine form at Parc Güell, where you can enjoy a nice nature walk.
Want to experience true art? You have to see a play at either Poliorama Theatre, the Grand Lyceum Theatre. They will surely offer shows to remember. But if you're more into enjoying the Barcelona nightlife, you have to know where to go on a night out. You can enjoy the major night club Razzmatazz and check out the city center,Eixample,Ies Corts, or Ciutat Vella for different vibes or even go to a concert at the famous Palau Sant Jordi.
Still don't have a place to stay in Barcelona during your trip? Had fights with your partner or friends about not knowing where to stay? Keep calm. We recommend you take a look at the hotels in Barcelona. You can see the location, what they offer, and the car parks close by, so you can kill two birds with one stone. To start, we suggest looking at the Hotel W Barcelona, one of the most emblematic hotels Barcelona has to offer. Whatever your budget, we bet our articles will give you an idea of where to stay during your visit.
Is Barcelona worth visiting?
We would say Barcelona is definitely worth visiting, not only because of its splendid architecture and places that it is known for (mentioned above), but also because of the many events it hosts!
Sant Jordi: Celebrated on April 23 since the 15th century, Sant Jordi (Saint George's) Day is also Valentine's Day in Catalonia and it's customary to give a rose and a book as gifts. This day is celebrated with various cultural activities, with the most popular being a book signing by some of Spain's most famous writers. It's a perfect way to experience Barcelona, especially if you like literature and you visit with your partner.
Mobile World Congress: MWC brings together the most important figures in the technology and mobile communications field and is where you can get up to date with the sector's latest trends.
Sónar: Sónar festival is an institution in electronic and experimental music. Founded in 1994, it's still held every summer with more and more attendees and internationally renowned artists. The festival takes over literally all of Barcelona's streets since there are many cultural activities during the day. At night, the festival starts at Fira Barcelona in Montjuic, where you can enjoy the best music and atmosphere for all ages.
Automobile Exhibition: More than 100 years old, this event still happens every year at Fira Barcelona in Montjuic and is an opportunity for car lovers to see the latest trends in the automotive world.
Primavera Sound: Along with Sónar, Primavera Sound is one of the biggest music festivals in Barcelona. It's been around since 2001 and has since become one of the top festivals in all of Spain.
Barcelona and its Surroundings
Sants Station is the main railway station in the city of Barcelona. Inaugurated in 1979, it is the second most important train station in Spain, with almost 30 million passengers a year. You can take a train to Seville, Valencia, Alicante, Murcia, Cartagena, Madrid, Zaragoza, and you can also travel to France without having to take a plane, as the international Renfe SNCF line can take you to Toulouse and Lyon, two of the most important cities of our French neighbours. If you decide to visit these cities by car, check out the Parclick app to see all of the car parks available! Josep Tarradellas Barcelona-El Prat Airport, is located 15km from the centre of Barcelona. It is the most important airport in Catalonia and the second most important in Spain in terms of passenger traffic: some 45 million passengers a year. It is very well connected to the city centre thanks to the metro and bus lines, but what we really recommend if you're going on a trip is that you leave your car in a cheap car park near Barcelona Airport. Now that you know how to get around the streets of Barcelona, why not make the most of it? Start your trip off with ease, by reserving a car slot on the Parclick app!